Recent and Ongoing Web Sites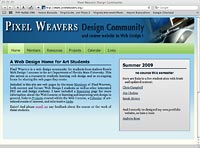 Pixel Weavers — I developed this web site as a resource for my Beginning Web Design classes at Florida State University. Through this site, I share ongoing information with my students and provide access to each of their individual sites and projects (this site typically grows and changes as the course progresses). View the projects page to see some of the web assignments my students have worked on. As a beginning web course site, it is simple yet effective in structure, with emphasis on strong CSS layout methods. The goal in the course is that students can create a site of this scope and size by the end of the semester.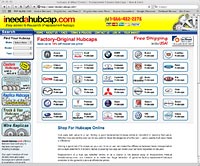 ineedahubcap.com — I entirely redesigned this e-commerce site to improve ease of use, give added focus to popular products, and make the buying experience better and smoother. This site runs on the Miva Merchant platform, but has many html and css customizations that I developed, as well as a MySQL search function. The pages use templates that show different information based on data for each category or product requested by the user, determined by a coding system I implemented within the product database.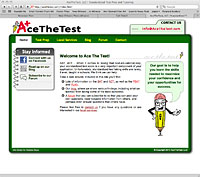 Ace The Test, LLC — this test prep / tutoring website is a recent venture by my brother, Coleman. He wanted a design that is fun while smart. So I contracted an artist friend, Richard Cloudt, to draw a pencil character in various poses to use throughout the site. I then digitally prepared and colored these hand-drawings so that I could create a consistent color scheme that highlighted this character. I also designed a multi-layer form on the contact page, and I am currently working on creating a separate, password-protected area of content for "members" of the site.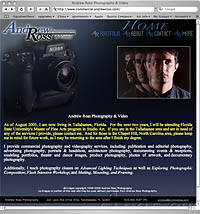 Andrew Ross Photography & Video — my commercial web portfolio highlighting my many areas of commercial photography experience: publication and editorial work, advertising photography, portraits, headshots, architecture photography, documenting events & receptions, modeling portfolios, theater and dance images, photos of artwork, product photography, and documentary photography. One of the first sites that I built, the Portfolio section uses frames together with a roll-over image gallery to give quick response to visitors viewing the images.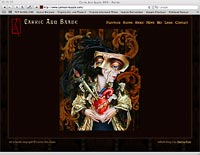 Carrie Ann Baade — this painter's portfolio web site showcases her many artworks and exhibitions. I designed the painting galleries using CSS-styled divs that appear and disappear with the click of each thumbnail, thus allowing for additional information to be selected within those rise-to-the-top divs.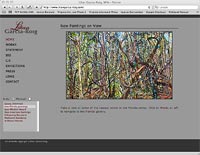 Lilian Garcia-Roig — another painter's portfolio web site, this site includes an automated/manual "news scroll" on the home page and extensive galleries allowing for detail images as additional views of many of the works.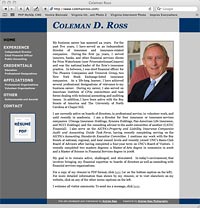 Coleman Ross — my father's on-line corporate résumé. After retiring from public accounting and chief financial officer positions in the insurance sector, my father and I created a web site which serves as an immediate and extensive information source for search firms interested in his qualifications for board of director or consulting roles. This site uses a fixed-position menu and incorporates enlarged images that pop up directly on the page from thumbnails.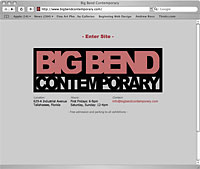 Big Bend Contemporary — the Master of Fine Arts students at Florida State University built their own gallery space in Tallahassee's Railroad Square Art Park in 2006, and I designed the logo and the web site for this exciting new exhibition space in Tallahassee, Florida (additionally, I took all of the photos used both on the site and in promotional materials for the gallery). This site was designed to have an easy to update calendar section, although unfortunately it appears to be out of date since I handed it over to the school in 2008.
Previous Web Sites
League of Graduate Artists — a site to showcase and promote all of the Master of Fine Arts: Studio Art students at Florida State University, their artwork, and their exhibitions. The web site includes individual profiles for each of the graduate students, photo galleries documenting the exhibitions, slide shows, resources for the general public and the MFAs, and information about the new MFA gallery at Railroad Square in Tallahassee. To speed the development of student and gallery pages, I developed template structures that only required new information to be added to an existing design. Note: the link I am providing here is to support the League of Graduate Artists and does not reflect my web design work..
Community Art Project — I was a founding committee member to this program of the Chapel Hill Public Arts Commission in North Carolina and designed the initial artwork galleries that accompanied each annual exhibition (for 2005, 2006, and 2007). The web site was entirely revamped in 2008 (not by me), whereupon these galleries were changed to go with the new design. Note: the links I am providing here are to support the Chapel Hill Public Arts Commission and do not reflect my web design work.
Personal Photo Pages — photo galleries of my personal (non-art, non-professional) work. Note: this site is still available on-line, although at this point it is very outdated....
Carve Magazine — I built a gallery to highlight artists and the artwork that was used as cover images for this international literary e-magazine. The magazine has since changed ownership and the new editor has discontinued the artwork gallery. Note: the link I am providing here is in support of Carve Magazine and does not reflect my web design work.
Carrboro Ultimate — I built a resource web site for participants in local ultimate frisbee pick-up games and Fall League play (which I helped to found in 2003). I have since handed this site over to a new designer, although the overall look is still based on my initial design and structure. Note: the link I am providing here is in support of Carrboro Ultimate and does not fully reflect my web design work.
The EYE Project — a community-based artwork I created in 2005 consisting of hundreds of eye photos. For the web galleries, I highlighted all of the individual eyes from the show as well as shared the exhibition as a virtual gallery — similar to how it appeared in the two locations where it was exhibited in print form (Chapel Hill Town Hall in North Carolina, and Ars Magna in Florida). Note: I no longer maintain this web site.